Pumping Unit - TECHING DIY Assembly 3D Metal Mechanical Pumping Unit Model Kit - Nodding Donkey that Works

Pumping Unit:
A pumping unit is a piece of equipment used to extract petroleum products from a well in an oil field. Because of their characteristic shape and motion, also known as "Nodding Donkey". The device has a component that bears a resemblance to a donkey or horse head, which moves up and down during operation. This vertical motion causes a long sucker rod to move through the well bore, which activates a pump at the bottom end. Oil, or an emulsion of water and oil, is then forced up to the surface where it can be collected.

Pumping Unit Composition:
.Power machine;
.A four-bar mechanism (crank, connecting rod, walking beam, bracket, cross beam and base) that transmits power and turns rotational motion into reciprocating motion;
.Donkey head and rope suspension assembly that transmit power and ensure that the polished rod does reciprocating linear motion.

Working Principle :
Pumping unit is the overground drive for a reciprocating piston pump in an oil well. The crank makes a circular motion to convert the kinetic energy into the reciprocating motion of the donkey's head.

Industrial Technology:
Precision casting and ingenuity. Every time assembly is an industrial reproduction. Design prototypes based on historical classic inventions and products, presenting the core principles of machine operation, and intuitively showing the application value of the machine.

Mechanical:
The mechanical structure is classically presented, and the clear transmission process is clear at a glance, showing the beauty of the meticulous logic and powerful machinery

Assembly Fun:
Product design is inspired by representative and nodal classic creations in the history of human industrial science and technology. Excellent works are modeled on a scale and highly restored. You can enjoy the fun of assembly, build the real machine collection crafts by yourself!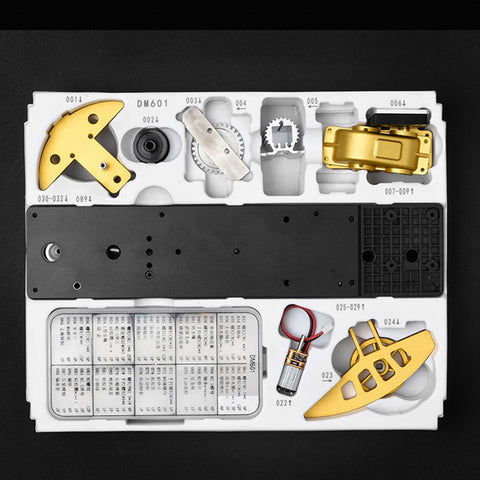 .Product Name: Pumping Unit Model Kit
.Material: Aluminium Alloy + Stainless Steel
.Model: DM419
.Coloring Process: Anodizing
.Finished Size: 247 x 54 x 227mm
.Number of Parts: 219Pcs
.Assembly Difficulty: 2 stars
.Assembly Time: About 2 hours
.Charging Voltage: DC5V
.Battery Capacity: 500mAh
.Product Dimensions: 24.7 x 5.4 x 22.7cm
.Product Weight: 636g
.Package Dimensions: 26.2 x 5.1 x 21.5cm
.Package Weight: 1207g
.Packing: Plastic Box + Blister
The link to the pumping unit is below as well as some related video:
Pumping Unit: https://bit.ly/3uT55fU
Super Deals: Get Extra 10% Off with Coupon Code 2021